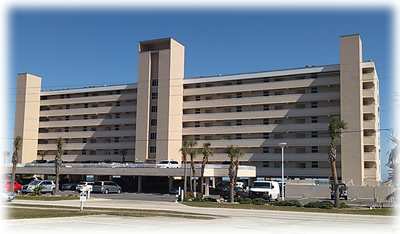 The beautiful Southpoint facilities were originally constructed in 1985 in quaint Ponce Inlet, FL. The building accomodates a total of 77 units across 7 floors with both two and three bedroom floor plans. Each unit is privately owned and reflects the unique and distinctive decorating style of its individual owner. For convenience, both the ground and first floor units are directly served by parking areas. Condos may be purchased or rented when available.

If you're interested in purchasing or renting a unit, please see the pictures in the Condo Photos section where additional information regarding the specific unit can be seen. Units that are available for rental typically sleep up to six with either a King or Queen size bed in the master bedroom and a queen or combination of twin size beds in the second bedroom. The laundry room contains a stacked washer/dryer combo and a small closet for storage.

Owners that make their units available for rent typically furnish the units with color TVs, VCRs or DVD players and high speed Internet. The kitchens incorporate additional modern conveniences including a full size stove, microwave, refrigerator with ice maker, dishwasher as well as cups, plates and utensils.




All units feature a private oceanfront balcony, overlooking " The World's Most Famous Beach"!